Woolover Ultra Cow Covers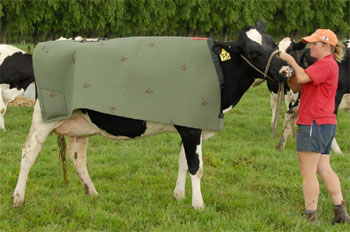 The Woolover® Ultra Cow cover is made from a wool rich fabric to which Emphatex™, a waterproof Teflon coated outer is laminated. The result is an absorbent, breathable, washable and durable cover ensuring a warm dry cow in the harshest of conditions. Three sizes available ensures each individual animal can be correctly fitted.
Safe and easy to fit. Simply slip the cover over the animal's head, thread the tail through the patented adjustable tail ring assembly, adjust per the fitting instructions printed on the outerbag and snap the cam loc shut. Cow comfort is then ensured.
Ideal for downer cows, those with negative energy balance after calving, a displaced abomasum or whatever ails them. Vets suggest that a third of downer cows die from hypothermia.
Sand pouches in the rear corner to stop the cover blowing in windy conditions. No straps to tangle in the pipework or leg straps to infringe around the udder. Cows can be milked with the cover on.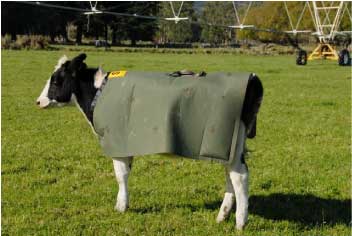 BLANKET YOUR COWS TODAY!

It's important to outfit your cows in fall, before cold weather inhibits their performance. Start using the Woolover Ultra by contacting your local Woolover distributor. Or contact Busse's Barron Acres Farm on 715-537-5153 or visit Busse's Barron Acres Farm website.