Calf Covers Regular
Woolover Calf Covers are 70% wool rich covers that offer:
Improved calf growth.
Improved calf survival.
Better calf health.
Cost effective returns for farmers.
At NZ$1.00 per week you can ensure all of the above.
Woolover calf covers offer farmers the following benefits:
Fitted in seconds.
Retains calf's natural body heat.
Effective in wet, windy and cold conditions.
Cover breathes and avoids condensation.
Aids in preventing Scours.
Improves weight gains.
Helps sick calves recover faster.
Covers can be reused on up to 8 calves for a period of 3 to 4 weeks each (indicative cover life period).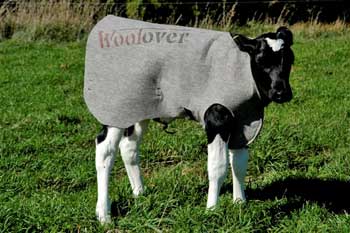 Woolover animal covers are the natural thermal protector to promote animal growth and lower hypothermic losses.
Translate your animal's food intake into more growth rather than body heat maintenance.